Custom Wedding Stationery
Extraordinary moments call for extraordinary and authentic designs. It is my delight to create wedding stationery from the finest materials and from scratch. Each of my designs includes hand drawn illustrations and handwritten calligraphy that you won't find anywhere else, fragments of antique paintings and personal details that are especially significant to you.
YOUR INVITATIONS are MORE than JUST PAPER.
Custom stationery is made with passion, care and great attention to details. Therefore, the design process is not just a service, I like to think of it as an experience. We start off with a inspirational images, sketches and work closely together to capture your vision and love story on paper.
To ensure the highest level of customer service and attention to every detail, I accept a limited number of bridal clients each year.
From save the dates and wedding invitations to on the day stationery and all the wonderful details in between... The possibilities for your stationery are endless. Personalize the stationery by selecting colors, paper types, printing methods and adornments to have something truly unique.
During the design phase, I will source the finest materials for you that best complement your designs and vision. In addition, I will also recommend suitable printing methods, such as letterpress or hot foil printing. Do you have special requests regarding color or type of paper? I'm happy to help!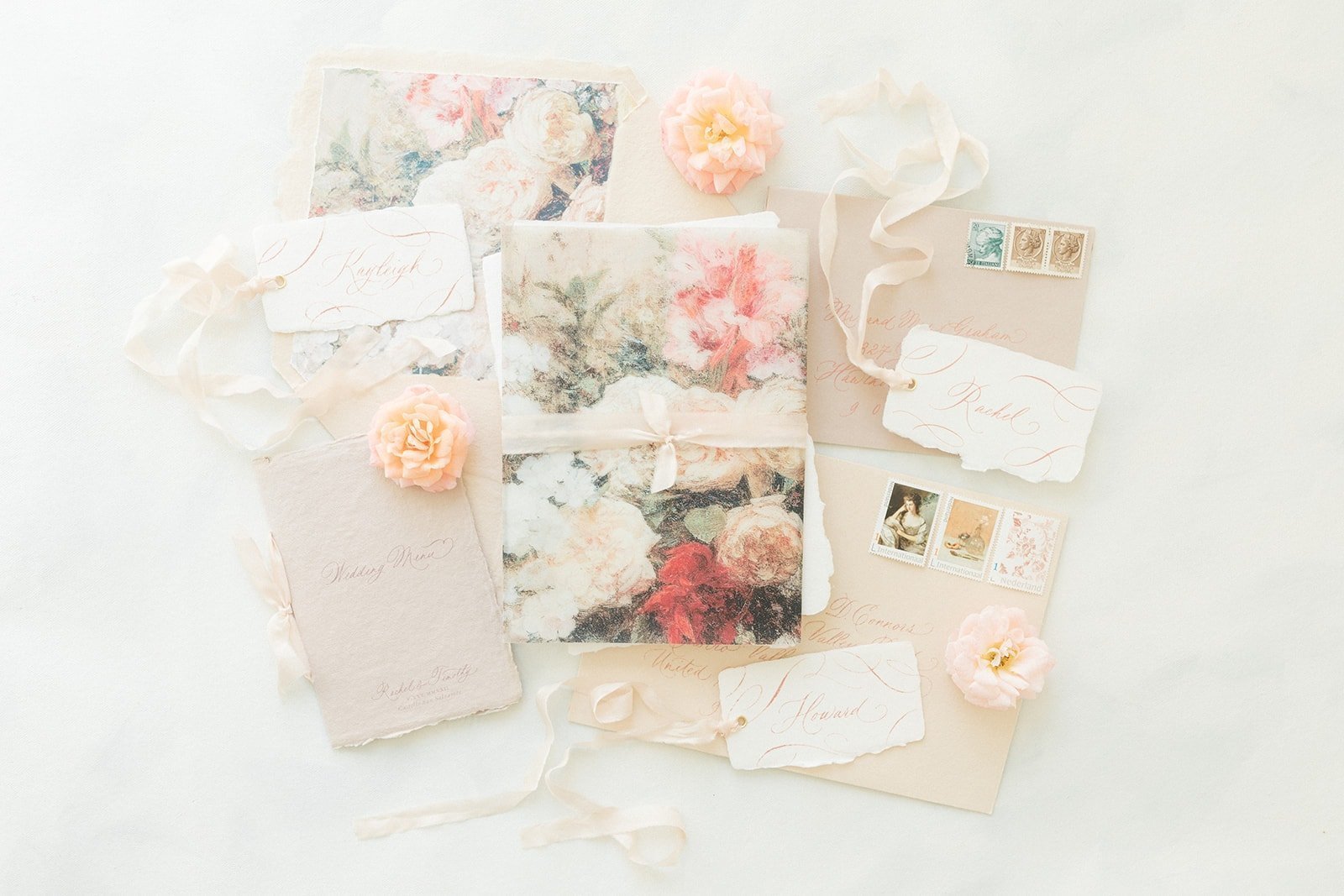 The average investment for Pen to Paper couples is between €3000 – €7000 for the save the dates, the invitations, and their day-of stationery such as menus, place cards and table numbers. This includes the designs, artwork, calligraphy, printing and material costs. Pricing is subject to your personal vision for your special day and quantities. Please allow for any additional costs for extra design work, spare invitation suites, optional embellishment upgrades and shipping.
Save the Date or Invitation – €1500 – €3000 on average
Day-of Stationery – €500 – €2500 (depends on which items you specifically need)
For save the dates and wedding cards, it is best to contact me at least 6-10 months in advance. From the initial sketch to the delivery, the entire process for save the dates or invitations generally takes 2 to 3 months, depending on your personal wishes (illustrations, printing method, paper types and finishing touches). Once I get to know you and know what is most essential to you, I can customize a package that is tailored to your vision and needs.