Custom Wedding Stationery
Extraordinary moments call for extraordinary and authentic designs. It is my delight to create wedding stationery from the finest materials and from scratch. Each of my designs includes hand drawn illustrations and handwritten calligraphy that you won't find anywhere else, fragments of antique paintings and personal details that are especially significant to you.
YOUR INVITATIONS are MORE than JUST PAPER.
Custom stationery is made with passion, care and great attention to details. Therefore, the design process is not just a service, I like to think of it as an experience. We start off with a inspirational images, sketches and work closely together to capture your vision and love story on paper.
To ensure the highest level of customer service and attention to every detail, I accept a limited number of bridal clients each year.
From save the dates and wedding invitations to on the day stationery and all the wonderful details in between... The possibilities for your stationery are endless. Personalize the stationery by selecting colors, paper types, printing methods and adornments to have something truly unique.
"It truly became a special invitation, not one that you 'just' have designed somewhere. It was a special day for us with emotional value, but e-very-one has taken your greeting cards with them as a keepsake of this day."
Full-service guidance &

Expertise
Unique illustrations & calligraphy
A reflection of your special day
As a complementary token, you will receive two additional stationery sets in a handmade keepsake box, lined with linen and a silk ribbon closure to be treasured throughout the years, allowing you to go back in time and feel the details that brought all elements together on your wedding day!
A smooth and stress-free process is paramount. I will maintain contact for you with the printers, suppliers and manufacturers. Additionally, all elements of the stationery will be taken care of and assembled by me down to the last detail (even stuffing the envelopes and applying the stamps is possible!). This allows you to have more time for family and other wedding preparations.
From hand-drawn illustrations to watercolor paintings, they are created specially for you. Furthermore, each piece of calligraphy is written by hand, scanned and digitized to be incorporated into your stationery.
You have a clear vision and love the process of setting the tone for your wedding celebration, but need the help of an artist to create your dream paper goods invitations, reflective of the envisioned style and palette.
During the design phase, I will source the finest materials for you that best complement your designs and vision. In addition, I will also recommend suitable printing methods, such as letterpress or hot foil printing. Do you have special requests regarding color or type of paper? I'm happy to help!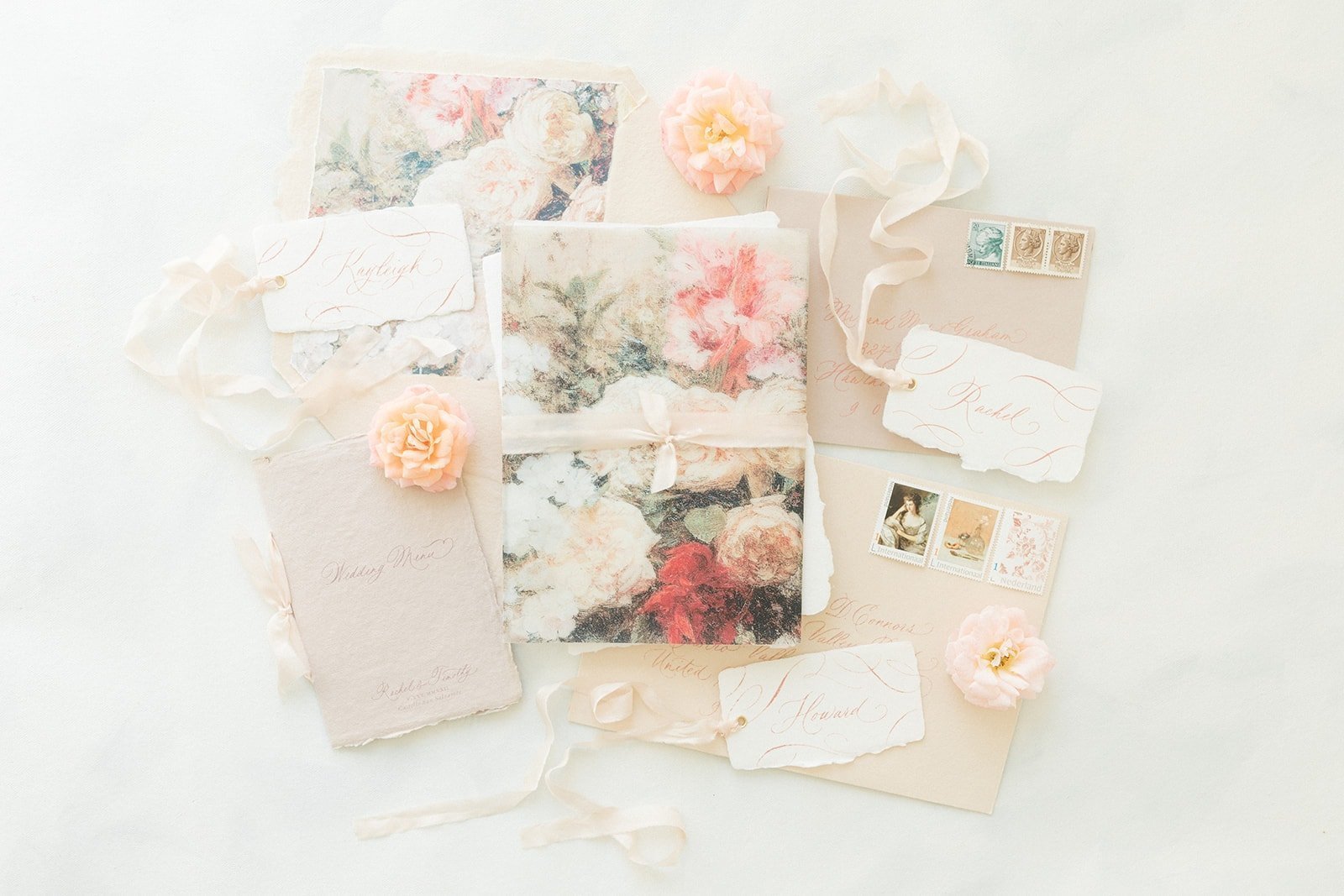 Frequently Asked Questions